What a year it has been. It seems like a mere 82 years ago I was looking forward to Star Wars Celebration 2020…
Amidst all the hardship and days filled with distance learning, saying goodbye to my daughter as she went off to college, and cancelling all kinds of plans due to a global pandemic, I've been home, staying safe, taking care of my fam, and enjoying Star Wars as I usually do.
I didn't get to attend many charity events, I didn't finish any of my costume builds (despite being home ALL THE TIME), and I didn't get to ride Rise of the Resistance with a very special friend.
But my family is as safe as we can be. I miss my daughter so much but she is doing her best out there for her future. My son and I get to spend a lot more time together these days… (and enjoy a lot more Teenage Mutant Ninja Turtles…)
So I just thought I'd toss out some of my favorite things this year in Star Wars in no particular order!
1. Star Wars Comics
This year ongoing Star Wars titles moved into the post-The Empire Strikes Back timeline and I was pretty hyped to see it explored! Now things got delayed for a few months at the beginning of the apocalypse but now that they are moving again it's nice to enjoy!
Some of my favorite moments:
Aphra's new little BD unit droid sidekick TA-418!
2. The Siege of Mandalore
Watching The Clone Wars end was pretty bittersweet. The storytelling of the final arc was amazing and the heartbreak of watching Order 66 again was awe inducing. Gar Saxon and Rook Kast, Maul and his battle with Ahsoka, and Bo-Katan and Ursa wrecking shop was all just too glorious! The final 2 episodes gives us some of the best Star Wars music I've ever heard and once again, Kiner crushed it!
3. Tam Ryvora and The Escape
Full stop.
I had spent a lot of 2019 being REALLY upset with a lot of Tam's choices while watching Star Wars Resistance. But the way the show ended and the resolution it brought to our little Colossus family was beautiful. Axel and I attended the season finale screening at Lucasfilm (probably our last event before the apocalypse come to think of it…) and had the wonderful experience of not only watching Star Wars Resistance on the big screen, but sharing a few moments with Christopher Sean (buff Kaz), and Suzie McGrath (Tam Ryvora!)
You know there's genuine heart in a story that makes you so mad at a character for a season and a half, but then finishes the story in such a way that she becomes one of your favorite characters ever. Thank you everyone on the Star Wars Resistance team for making Tam's story utterly deep, personal, and rewarding!
4. The Dozas
Star Wars is filled with families, Some blood, some found, most of them tragic, but the Dozas are my new favorite! We have a mother, father, and daughter who all are their own brand of different and all love each other very much. I'm glad to see a relationship that (so far) hasn't ended in tragedy! I love how they support each other and work through their differences with understanding and unconditional love! Venisa is hands down one of my favorite characters (and she's got a pretty sweet custom X-Wing too.) The Dozas are my little beacon of love and hope in their happy little place.
And it cannot go without being said…
GO SPACE LATINX!
5. Star Wars Squadrons
Look.
I never said I was the best at playing games and the learning curve on this one is not easy but man is it fun.
These days I try to pop on for at least one match a day for a little fleet battle! Happy to have the B-Wings and the TIE Defenders added even though I'm still no good with 'em! I love the customization options and I hope they keep adding little surprises in the future! All the easter eggs and Star Wars Rebels paint jobs make me smile even when I'm going full throttle towards all the forward batteries on a Star Destroyer!
6. The LEGO Star Wars Holiday Special
A surprise to be sure, but a welcome one!
The time tested hilarious LEGO humor and ridiculous circumstances all made a great evening with the family and a lot of laughs!
And these days I really can't ask for much more than that.
7. The Handmaidens
I loved Queen's Peril by E.K. Johnston which took us back to a freshly crowned Queen Amidala and all of her handmaidens in a wonderfully exciting story of teenage royal antics that was like, 10X more crazy and fun than all those episodes of The Crown I watched!
Not that I didn't enjoy The Crown of course.
Not only was that book AMAZING but we got a little extra Sabé and the handmaidens in the Darth Vader comic series which was a pretty awesome flail moment for me!
I'm here for all the Sabé, Rabé, Sashé, Eirtaé, Yané, and Dormé I can get!
8. Jedi Master Kelleran Beq and his Challenges!
Star Wars: Jedi Temple Challenge was another super fun thing to watch unfold! Ahmed Best took his rightful place as the ultimate padawan trainer and I loved every second.
I'm not going to go into how much I would smile when a kid smacked into a wall but look, I'm only human…
PLEASE LET ME RUN THE COURSE. I PROMISE NOT TO GET MAD WHEN I FALL AND YOU ALL LAUGH!
9. Doctor Aphra
That Doctor Aphra audio drama was the perfect adaptation to give our favorite jerk archaeologist her voice! Emily Woo Zellar did a stellar job, and much like any Star Wars audio production, no expense was spared in giving us a nice full cast with all the bells and whistles.
But c'mon.
We all know we're here for Aphra. And Sana. And Aphra and Sana.
10. Anthologies
This year we got LOTS of short stories! From a Certain Point of View: The Empire Strikes Back, Star Wars: Dark Legends, The Clone Wars: Stories of Light and Dark, and a couple of short stories EA released connected to Star Wars Squadrons! I definitely have my personal favorites but I just love getting to dip my foot into so many unexplored places in the galaxy. And get to know so many more characters!
My personal favorites:
A Good Kiss by C.B. Lee (From From a Certain Point of View: The Empire Strikes Back)
Heroes of the Rebellion by Amy Ratcliffe (From From a Certain Point of View: The Empire Strikes Back)
STET! by Daniel Jose Older (From From a Certain Point of View: The Empire Strikes Back)
Wait For It by Zoraida Cordova (From From a Certain Point of View: The Empire Strikes Back)
There is Always Another by Mackenzi Lee (From From a Certain Point of View: The Empire Strikes Back)
But What Does He Eat? by S.A. Chakraborty (From From a Certain Point of View: The Empire Strikes Back)
Faith in an Old Friend by Brittany N. Williams (From From a Certain Point of View: The Empire Strikes Back)
The Orphanage by George Mann (From Star Wars: Dark Legends)
A Life Immortal by George Mann (From Star Wars: Dark Legends)
The Golden One by George Mann (From Star Wars: Myths & Fables [Target Edition])
Bug by E. Anne Convery (From The Clone Wars: Stories of Light and Dark)
The Lost Nightsister by Zoraida Cordova (From The Clone Wars: Stories of Light and Dark)
Almost a Jedi by Sarah Beth Durst (From The Clone Wars: Stories of Light and Dark)
Elee & Me by Amy Ratcliffe (It's a kids book that is A D O R A B L E)
11. Mandalorians
This has certainly been the year of Mandalorians hasn't it? Getting to see Bo-Katan and Boba Fett both return to the screen was wonderful. I've always been a Boba Fett fan and LOVED the treatment his return was given by Robert Rodriguez!! I know there is a lot in store for them and our buddy Din but everything this season gave us really hit that spot.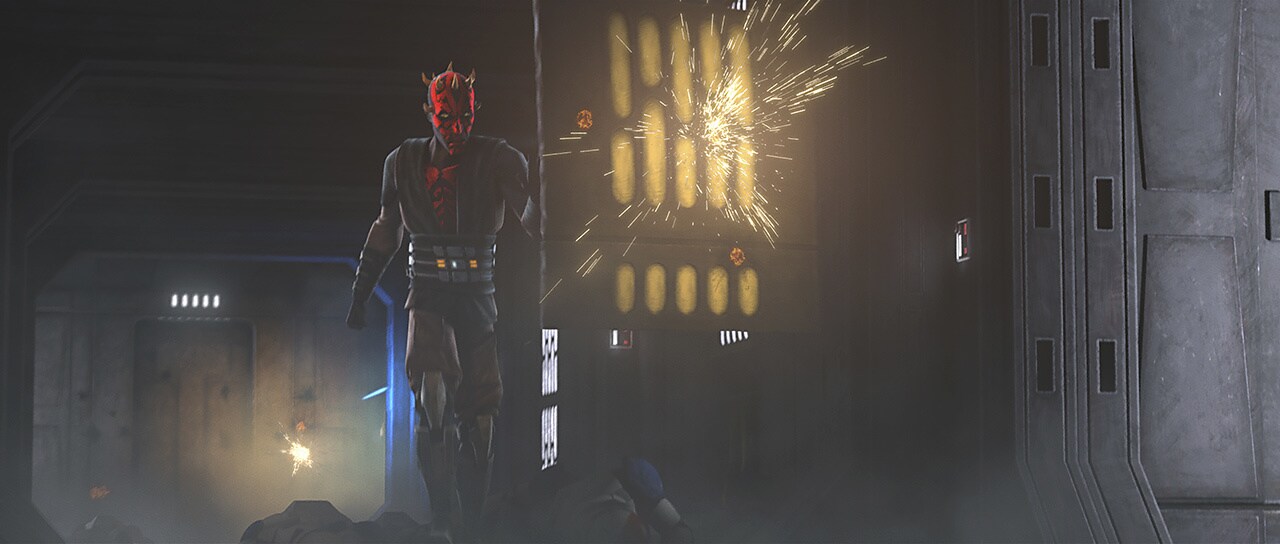 Hallways
We got two moments of unparalleled badassery this year.
Maul and Luke Skywalker both getting their unstoppable hallway scene.
Both were beautifully done, beautifully scored, and blew us all away.
Forward to the Past
It's been a tough year but looking back I'm happy that there was a lot of Star Wars for me to enjoy! Looking forward to 2021 I'm just as excited for the future!
I am enthralled with the further adventures of Boba Fett and Fennec Shand in The Book of Boba Fett
LEGO Star Wars: The Skywalker Saga I'm sure will be a blast for Axel and I!
The Bad Batch and all the exploration of a post Order 66 time!
Star Wars: Visions which is like… ANIME.
Oh, and one more thing…
EVERYTHING THE HIGH REPUBLIC
Another thing delayed this year is finally hitting in January! I am fully hyped and ecstatic to explore the world of lots of Jedi! Jedi wookiees! Jedi crossguard sabers! New Jedi starfighters! One-armed trandoshan Jedi masters!
Get in loser.
We're heading to the High Republic HYPE TRAIN.
See you in 2021!
Follow us EVERYWHERE!