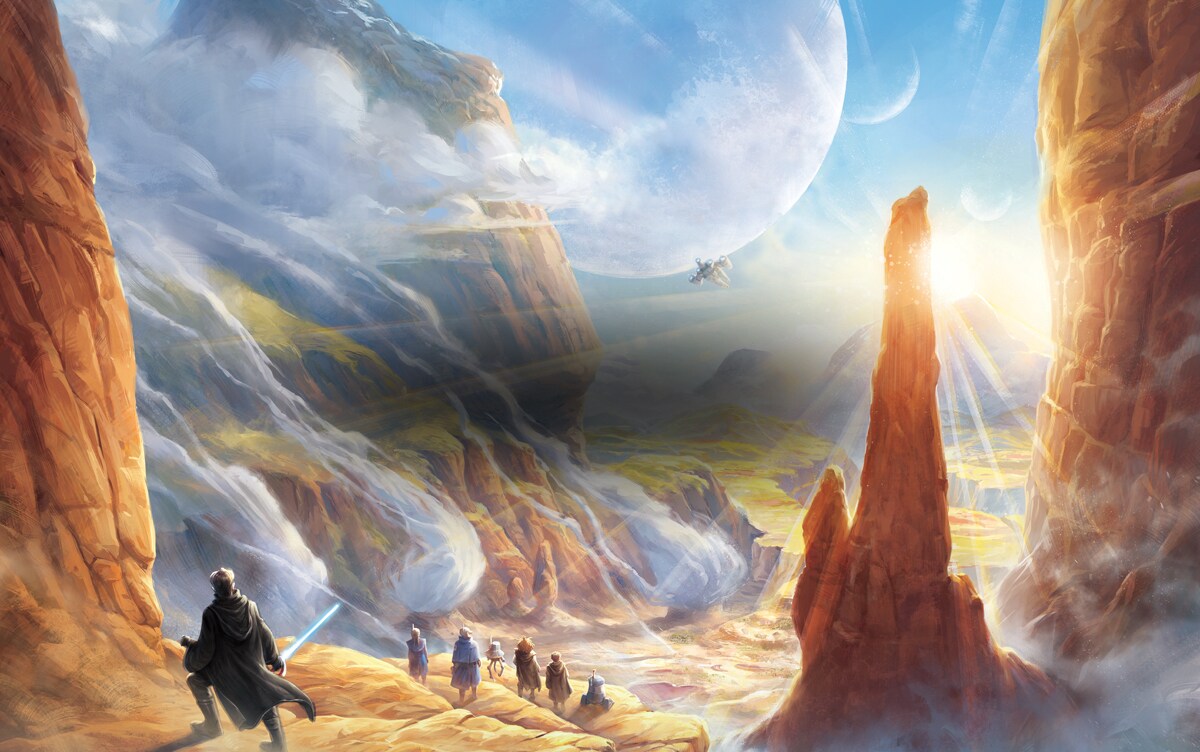 Jedi Silandra Sho, Padawan Rooper Nitani, and their pathfinder team are sent in to locate another missing pathfinder team! They find themselves on a lifeless world searching the mysterious abandoned ruins haunted by shadowy creatures!
George Mann brings us a spooky story set in the shadows of this age of exploration. Complete with winged monsters! Jedi with shields! Lost cities! Survival horror! Pathfinding and prospecting!
SLIGHT SPOILERS AHEAD!
Jedi Lost
The story revolves around a rescue plan for the lost pathfinders. Our Jedi padawan is named Rooper Natani! A dual saber wielding, adventure-craving, excitement-seeking Jedi in training! Rooper is about to find out if she's really ready for all this adventure she's been searching for.
Protectors and Guardians
Rooper's master is Silandra Sho. The first Jedi we've seen to wield a saber and a shield! Such a fun and interesting idea we haven't explored. On the Galactic Starcruiser we were able to utilize a shield in the lightsaber training so I'm very happy to see an in-universe example of it. The shield fits in perfectly with the idea of Jedi being protectors, what better weapon could be used for knowledge and defense?
Prospecting and Pathfinding
Another first here is seeing the Republic Pathfinder team in action! The idea is that as the Republic begins to expand throughout the Outer Rim, these teams help explore and help those in need. They seem to consist of Jedi, pilots, technicians, astromechs, and communications techs. Almost like a well-rounded RPG party! I hope to see plenty more of these teams in action during this time period!
Into the Dark
The trail leads to the shadowy world of Gloam. Where the ruins of a lost civilization might hold the key to the terrors that roam its long dark nights. The tone is wonderfully set. It really sits well in that place of scary but not terrifying for kids which makes it a fun read. Even as an adult!!
Bits and Pieces
The story takes us through twists and turns in a haunting mysterious world and delivers timeless themes and lessons. Star Wars fits perfectly with this middle-grade tone in the way of some of my favorite scary things for younger ages. Things like Temple of Doom, The Goonies, or even Stranger Things. There's a great place for "scary" stories for a younger audience that works here. I've been a fan of Mann's other Star Wars works (Myths & Fables, Dark Legends, and Life Day Treasury) and am happy to see him write in a different style than those stories with more of that fairy tale quality. The story stands wonderfully on its own but also has a few threads that may lead through other Phase II stories to come!
This is a must-read for any fan of Star Wars spookiness!
Follow us EVERYWHERE!