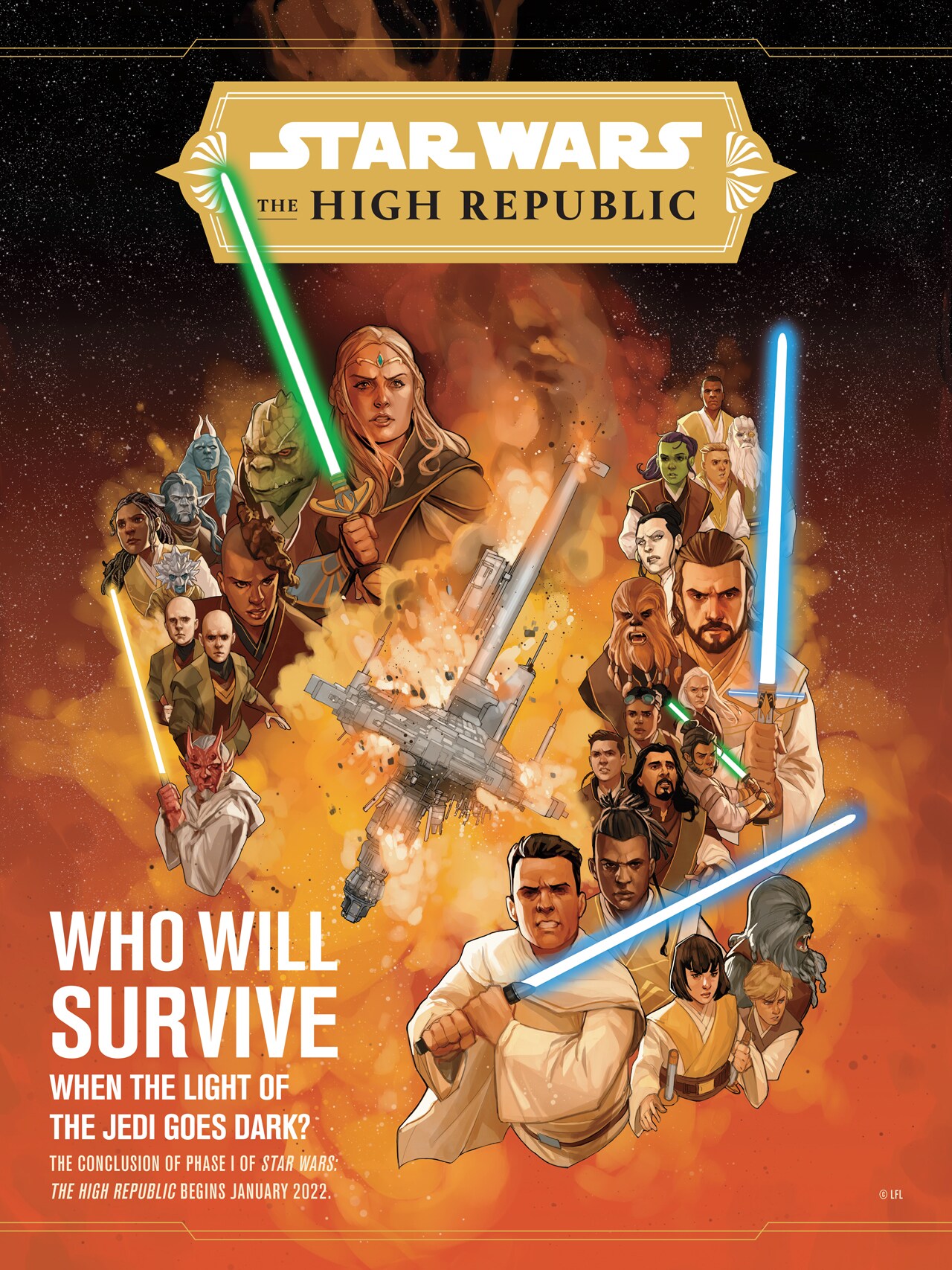 We've been teased at the finale for The High Republic's first phase and have been worried about our new favorite characters ever since. Claudia Gray brings us The Fallen Star and gives us an epic, breathtaking, personal story that focuses on its characters in that magic way that only Claudia Gray can. The book stands together with Light of the Jedi and The Rising Storm to continue the storytelling and bring our first phase of The High Republic to a conclusion.
So what's in store for our Jedi and friends and the Nihil's newest plans?
A WHOLE LOT.
SLIGHT SPOILERS AHEAD!
The Firebrands
Elzar, Stellan, and Avar reunite in this book! While Avar's presence is much less than Stellan and Elzar's, their interactions are all wonderfully done and I loved seeing them together. Watching them work through new problems after everything they've been through are some of the best moments here. And wondering where they go next… well that's all part of the fun right?
Alright, Alright, Alright…
While the heroic Jedi shine as usual the crew of the Vessel plays a huge part in this story as well! Affie, Leox, and Geode are back to help the Jedi turn the tide! Seeing them again embroiled in another dramatic Jedi entanglement brings warm feelings to my heart. Seeing Affie operate on her own after coming through that Byne catastrophe thingie is refreshing. Leox delivers some of the best Star wars dialogue ever and the Geode moments in this book are rock solid!
Hearts of Kyber
Bell and Buryaga are also main characters in this otello that get some great moments. Bell and Indeera are continuing to reckon with recent events only to be faced with shiny new disasters to confront! Burryaga continues to be the most huggable Jedi ever. Orla Jareni gets some time to be a teacher in a way only she can. Orla's point of view is a wonderful thing to behold and its effect on others truly makes her one of my new favorite Jedi.
Star Light Star Bright
As the title and teases have all let on… now is a terrible time to be at Starlight Beacon. What has become a symbol of the Republic and the Jedi as they expand across the Outer Rim and a beacon of hope for people across the galaxy has become a target. We've had enough time to grapple with the inevitable but even so, it remains heartbreaking. We, like many of the characters, watch with a heavy heart as the reality of this newest tragedy unfolds. The most beautiful thing in the story might be the hope, courage, and unity displayed by so many people in the face of such horror.
Focus
Claudia Grey's storytelling in this novel is much more personal than the previous Del Rey novels have been. While the events are just as massive and galaxy shaking, the book unfolds from the characters' eyes. And, if you've been following the books and comics, these characters are now much more familiar. Watching familiar characters in the face of such tragedy makes every moment feel that much more intense.
Bits and Pieces
What do the Jedi fear? Since the inception of this project and the creators talking about this core theme, I've been very worried. A lot of those themes are built on in a huge way in this book. So much of the tension and unease that's been building since the events of The Rising Storm reaches a breaking point here. The story is heavy with pain and loss but also with hope and unity. I love this book even though it broke my heart multiple times.
This is a must-read for every High Republic reader ready to face the pain of loss. But like any great Star Wars in its darkest moment, we see hope.
Listen to the Rogue Rebels Podcast episode on this book here!
Follow us EVERYWHERE!